The Antares, just like its namesake, is designed to be a dazzling and spacious residential project, encapsulating a lifestyle with the best of amenities within a highly developed, flourishing community.
A Holistic Residential Community
Proposed to be established on a 150 sq. yard plot, The Antares is being surrounded by a highly valued community with great external amenities – Tranquility, Inside-Out.
We know a wholesome home needs basic yet high-end amenities to make your life a blissful, joyous, and comfortable experience – Luxurious & Spacious – no limits to living life to its fullest.
3 Spacious Bedrooms

3 Balconies (4 ft-wide)

Expensive Living/Dining Room

3 Modern Washrooms

Modular Kitchen

Assured Privacy & Peace

Lift for Commuting

4 ft-wide Staircase Foyer
Keyless Entry
Premium Bath Fittings
False Ceiling With LED & Ambiance Lights
Gazeebo With Minibar On Rooftop
Style and Functionality With HOB
RO System for Pure Drinking Water
Geyser Equipped for Instant Hot Water
Modern Chimney
Beautifully Crafted Designer Cupboards
Motion Sensor Closet Lights In Master Bedroom
LED Panel In Master Bedroom
Located in Ramgarh Bhudda
Three Side Connectivity | Near PR7 (Airport Road), Near PR7 (Airport Road) & Patiala Road
Antares's Vibrant Vicinity
A location in itself is an asset, so a home in a prime location, besides making your life comfortable and convenient, will also boost the economic value of your prized investment. Antares is strategically located in Zirakpur's key region with the proximity to the essential places that you can reach within minutes.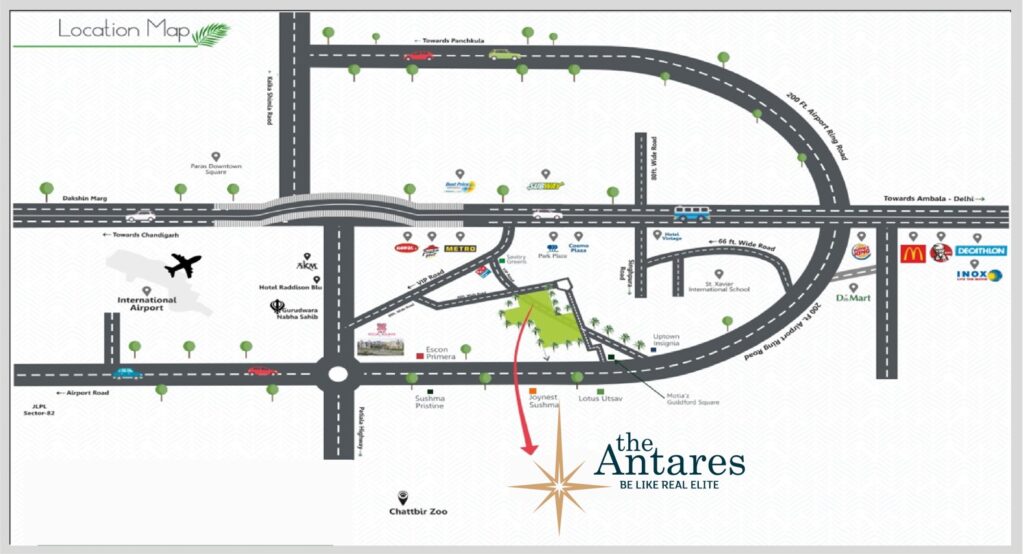 3BHK Luxurious Residential Flats
Antares – The true essence of Life & Living
A home that promises you a life full of comforts, a touch of luxury, and a perennial bliss…
Antares has everything a modern home represents – the best amenities, great facilities, and a community that you can cherish; a stunning home that is perfect for you and your loving family.